I was a bum for two months now and I am losing every ounce of hope I managed to muster for a time. And in rough times like this, I always drown myself in series that I can relate to; a series that will make me feel alive even for a short while. Guess what, I found it in a 23 year-old drama.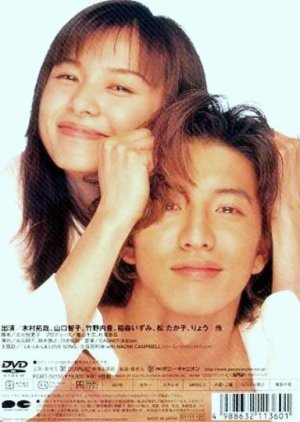 I am actually remembering how I came across with this drama considering it's a really old drama. It aired 1996 and Kimura Takuya's youthfulness in here makes me even harder to resist.
Okay. I give up. I really can't remember how I found out this drama. My initial impression upon watching the first episode is nostalgia. The resolution of the video itself will make you know that it's an old drama. The scene started with a lady in a traditional japanese gown running on the streets of Japan, seemingly hurried, worried and pissed of for an unknown reason that is yet to be revealed. Later, we found out that she went to an apartment looking for her supposedly husband because their wedding is on that day and few minutes before the ceremony starts, her husband doesn't arrive yet. What she saw is a different, confused man, not sure what was happening as he just woke up by a loud knock on the door. And this, my folks, is where the riot and blooming love starts.
Our main gal is Hayama Minami, a 31-year old woman who was left off by her fiance before their wedding ceremony starts. She is a model but after the incident, and because of her age as well, she is struggling to get new gigs as a model. She's broke because she invest most of her money for the wedding and for her fiance. She decided to live in her fiance's old apartment together with his roommate, Sena Hidetoshi.  Sena is a 24-year old piano instructor for kids who aims to won in a big piano competition. His life begins to changed when Minami started living in his apartment.
My most favorite scene in this drama is at the end of Episode 2, where Sena explains to Minami that they are in a long vacation which is also the title of this drama. He said that amidst the struggles they are in right now, better things are coming even if they won't do anything. That they are in a long vacation and soon it will end; something new will arise.
WOW. Those words got sucked into my heart as if I am the one being comforted by Sena and not Minami. I am always engaged in a drama that speaks to the very depth of my soul and I feel like Long Vacation reflects the season of my life right now. I see myself in some parts of Minami or Sena or even in the supporting characters. Everyone is struggling; everyone wants to be in the light. Here's the conversation of Sena and Minami in the ending scene of Episode 2, which resonates in me:
Sena: There's no spotlight on the supporting role. The cameras don't even go after the supporting role. What rigid rules.

Minami: The movie?

Sena: No, life.

Minami: When will it be my turn? What am I doing? I played panchiko all day.

Sena: Why don't you think of it this way? It's a long vacation. 

Minami: Long Vacation?

Sena: There's no reason to rush. There are times where no matter what you do, it doesn't work out. No matter what you do, it's no good. At times like that, it may sound strange but.. Why don't you think it's a vacation from God? Don't force yourself. Don't rush. Don't try hard. Just let everything to take is natural course. 

Minami: Then?

Sena:  Things will improve.

Minami: Really?

Sena: Probably…

Minami: Probably…
I felt the comfort and ease on a very personal level. I empathize with the characters, knowing the pain, worry and frustration that feels like a domino effect. The feeling that no matter how hard you try, nothing good is coming out of the situation. Maybe that's why I can relate – because I am currently experiencing it right now. Somehow, this words of Sena gave me hope. It gave me an assurance that soon everything will fall in its proper place; and that I just have to believe that things will improve, no matter how blurry it seems in the present.
This is the series that mirrors mine; and I am happy I stumbled upon this drama.
Romance
If we talk about their individual characters, both actors managed to make their roles come to life. Tomoko Yamaguchi as the badass, sassy lady Minami is a character I hoped I could be in the future. Sure, she has flaws but I saw growth in her throughout the course of the drama. She's a strong, free-spirited woman but with emotional baggages too.
I liked how meek, cool and reserved Sena is which is also wonderfully portrayed by Kimura Takuya. You could say I am hypnotized by the "Kimutaku Charm". I don't usually watch jdramas but his charisma on-screen is really evident.
I like their rapport as a couple, and their chemistry both as their characters and actors sizzle on-screen. I like that even though this is an old drama, it's not a statue kissing. Overall, I can't say anything bad with their romance. Everything is fast-paced, there are no unnecessary scenes or heavy conflicts. They also have nice rapport with the supporting characters.
More than the romance, I am merely drawn with their journey while they are on long vacation. I feel sad when Sena decided to give up playing piano because nothing good is coming out of it. I also like it when he went back to his passion because there is one person who believes in him and wants to hear him playing piano. Of course, that person is Minami.
There are areas of this drama that might seem cliche already because we can see a lot of this used in romcom dramas. But to be honest, I don't have problems with it. I still found this drama light, enjoyable and feel-good. Something you can watch whatever emotions you're in – whether happy or lonely.
I would highly recommend this jdorama. If you could see pass its oldness then you are in for a good ride. I am actually writing an entry about this drama because it's been eating me up for days now. I am just so addicted. When I wake up, I would remember the characters. In my idle moments, I would see some scenes in my mind. Whenever I feel like this way in the dramas that I watched, I just have the need to write about it so I can release the love I have for the drama. And for me to go through my life as well, I have to let go and realized that I'm not living in their world. I have my own and I have to deal with it too. Wow, that's a severe post-withdrawal symptom I got there.
And so this is it. As hard as it may seem, Show, I have to let go of you now. You will always have a place in my heart. The impact you made in my drama-watching is so severe but in a good way. Someday, I would also like to experience seeing the end of this long vacation that I'm in right now. Yes, I am in a long vacation; and soon, everything will be alright. Everything will be good again.
Oh, did I also mentioned how La la la love song plays in my mind the entire time? 🙂